DASHBOARD WARNING LIGHTS ON??

Warning Light Diagnostic Service
How many times does it happen, driving along, a warning light illuminates, and you have no clue what it means? Some lights flash up, and then disappear, some stay on, and haunt you for days, weeks, or even months! The light that comes and goes, isn't too much to worry about. It could mean a simple error, like the ECU (Engine Control Unit) has misread a sensor, or a sensor has exceeded its set parameters, and then returned to normal! Its the ones that illuminate, and stay, that need looking at! It would indicate a problem with that system! The ECU needs to be plugged into a computer, to read the error code, and to tell you what the problem is. It can be a simple problem, like a flat battery, that has caused a light to show, and will be a simple fix of resetting the light. Or it can be a sensor that has failed, and needs to be replaced. Whatever has happened, it needs to be plugged in, and the error code read to find the cause.
Most garages will charge a standard price, of one hours labour, to plug in and read the fault codes on your car. And with the average garage charging up to £100 per hour labour, plus vat, that can get a bit expensive. And even then, you have to get the car to them!!!
We will come to you, anywhere within the West Sussex area, plug our system in, read your code(s), inform you of what they are, clear them, all for £49 fully inclusive!!
If the light returns, you know what the fault is, and what it will take to rectify it. If it doesn't, it has all been sorted for £49!
Our computer system will read and clear warning lights, including Engine, ABS, Air Bags, Traction Control, Vehicle Stability, for most makes of car and van, including
Alfa Romeo - Audi - BMW - Chrysler - Citroen - Dacia - Daewoo - Ford - GM - Honda
Hyundai - Isuzu - Jaguar - Lancia - Land Rover - Kia - Lexus - Maybach
Mazda - Mercedes Benz - Mini - Mitsubishi - Nissan - Opel - Peugeot - Porsche
Range Rover - Renault - SAAB - Scion - Seat - Skoda - Smart - Sprinter - Subaru
Suzuki - Toyota - Vauxhall - VW Volkswagen - Volvo - The list goes on....
Transit Speed Limiter Problems??
SORTED!!
Call out within West Sussex, to read and clear the codes, is £49, fully inclusive!
Phone NOW for details
079 60 77 69 99
Have a warning light that you are not sure what it is, or what it means??
Either text a picture or E-mail us a picture, tell us what car it is, what year, and if its petrol or diesel, and we will tell you what it is, completely free of charge!!
BROKEN DOWN? ACCIDENT?
FLAT TYRE? FLAT BATTERY?
NEED HELP OR RECOVERY?
NO AA OR RAC BREAKDOWN COVER?
WE HAVE A 7.5 TON TILT & SLIDE RECOVERY TRUCK, READY TO HELP!
WILL CARRY CARS, VANS & 4x4'S!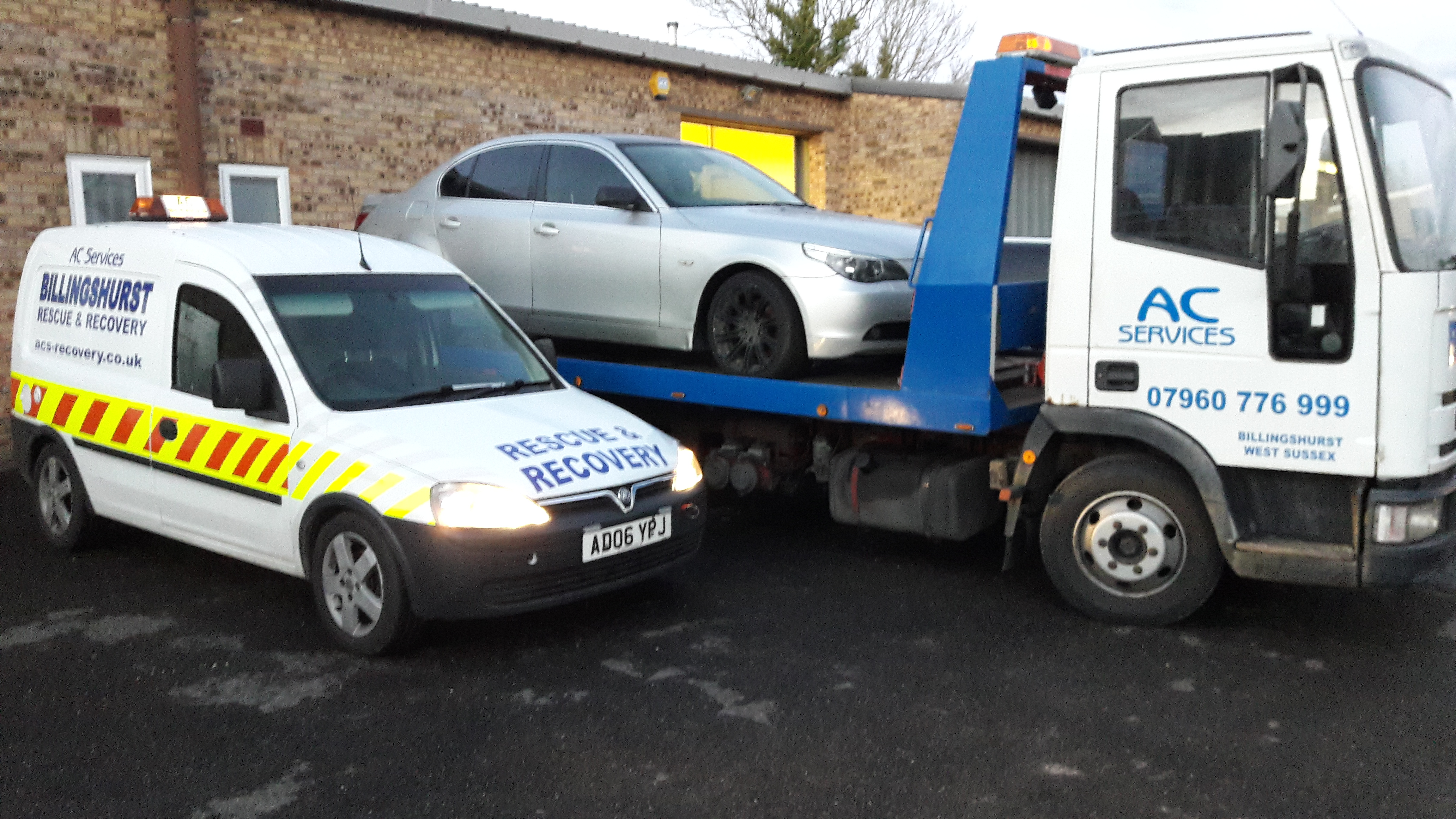 7.5 Tilt and Slide and Service Van
Phone AC Services now on

or for Non Urgent - (01403) 786861
If we can help, we will!!
£49 Call out charge 8am-6pm Mon-Fri
£59 Call out charge 6pm-8am Mon-Fri & Weekends
Saturdays, Sundays & Bank holidays are charged at £59. Mileage charges apply for any journey over 10 miles round trip from our base in Billingshurst, West Sussex. Additional mileage charged at £1.25 per mile round trip. Payment to be made via Debit card, PayPal, or cash on arrival, unless vehicle is coming back to our workshop for repair.
"Keeping West Sussex moving!"
acs-recovery.co.uk
Find us on FACEBOOK &
Twitter @AirConReGas